ECE Camerata courses
What are Camerata courses?
Camerata is the programme aimed at a chamber choir of expert, ambitious and high achieving singers. It is run over a weekend in a number of attractive locations. Each course features a wide-ranging repertoire which is different for each location. The cost is inclusive of the whole weekend, including refreshments and lunch.
Participants will be expected to prepare in advance. Due to the quantity and demanding nature of the music to be performed, no time is available for 'note-bashing'. Your music will be sent in advance and some assistance will be available from this website to coincide with this.
Forthcoming Camerata courses
St George's, Cullercoats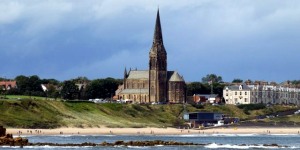 10 May 2024 — 12 May 2024
St George's Church, 1 Beverley Gardens, North Shields NE30 4NS
For experienced amateur choral singers, focusing on specialist high-quality choral music. It will take place in the iconic grade I listed church of St. George's, on the sea front at Cullercoats. The architect was John Loughborough Pearson, one of the great architectural geniuses of the 19th century, whose use of high brick vaulting gives acoustics for singing that are always outstanding.